Oludeniz, is literally translated to Dead Sea is a real natural wonder and fascinates people who visits it. This beautiful peace of nature offers a very different experience to its visitors in every aspect.
Oludeniz is located in Fethiye region of Turkey. It is a haven for nature lovers and extreme sports enthusiasts. Along with the clean, golden beaches and turquoise waters, Oludeniz is a world famous parkour for paragliding.
This unique place has magnificent atmosphere and nature and of course fascinates people who visits. As a result of this amazing nature and great weather conditions for extreme sports, Fethiye is one of the most popular tourist havens of Turkey.
Summer in Oludeniz Beach

Oludeniz is a great place for whom looking for a calm and tranquil experience. The beach gets its name from calm and still waters, even in the severe weather conditions. Oludeniz means "Dead Sea" in Turkish.
The beach has iconic clean and turquoise waters and long coast that are open to the public. Oludeniz beach is also under protection to cover this natural state of the area. It is forbidden to build complex buildings and other constructions around the beach area so it can keep this amazing condition.
Oludeniz summers are extremely popular and the beach attracts people all around the world. You can expect a crowded beach in the Summer season but you will still feel the tranquility and enjoy the great nature.
What to do at Oludeniz Beach?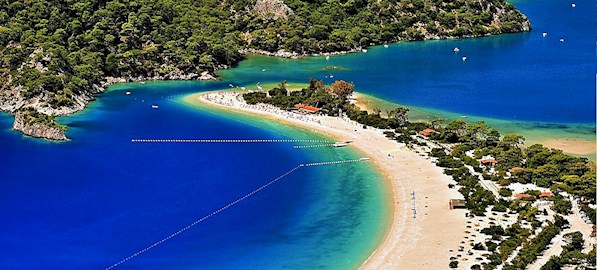 Oludeniz beach is a place of interesting activities. In this wonder of nature, you won't be limited to what are on the water but also explore underwater with different diving activities and courses.
When someone says Oludeniz, of course the first thing that comes into the mind is golden coasts and turquoise waters that will take your mind away. First thing that you should do is lying down on the golden coasts and enjoy the bright sun. You will feel like you are in a part of the heaven when your toes touches to the turquoise waters in Oludeniz.
Oludeniz is a magnificent place all alone but also you might want to discover untouched, virgin nature of the area. Most of these coasts are not accessible by the land so you have to join boat tours to explore these areas. These tours are mostly takes a day and includes meal, visits different places around the Oludeniz.
If you are interested in water sports, you will love the calm waters of Oludeniz and do any water sports that you might want to do. Along the beach, you will see different kiosks that offers different water sports activities. You can choose one of them and enjoy the adrenaline on the clean waters of Oludeniz.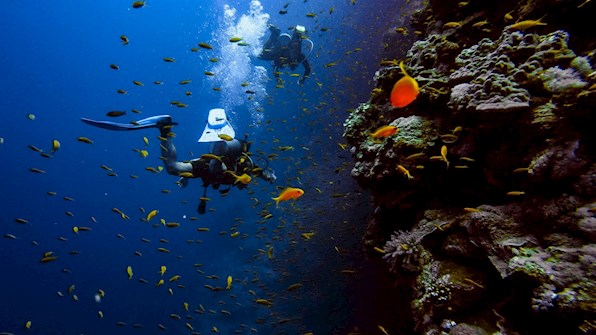 Oludeniz's underwater is a worthy place to discover too. The clean water creates an amazing sight, even in the shallow waters. Calmness of the sea will help divers to observe more detailed underwater habitat.
There are tens of alternative diving routes in Oludeniz. You can choose one of them and enjoy exploring a new world. It doesn't matter if you are a beginner or an experienced diver, you can join courses and get the necessary qualification to explore underwater. Especially if you are new and inexperienced diver, Oludeniz will be a turning point for you.
Oludeniz's great atmosphere allows people to enjoy nature too. You can simply walk around the forests and jump into the water anytime you want during your vacation.
Descend into Oludeniz Beach from Babadag
Oludeniz's great weather highlights opportunity for paragliding. Not only during Summer season, you will always have the opportunity to do paragliding all year long. The calm weather conditions allows paragliders to do this activity all year long.
Of course the best weather for paragliding is in the Summer. You can descend to the white sands of Oludeniz and experience the best sight that you will ever see. You will be mesmerized by the magnificent look of Oludeniz's turquoise waters and dense green forests.
Oludeniz's paragliding parkour is suitable for anyone from beginner to experienced. If you have the necessary certification and license, you can do paragliding alone too. For the beginners and first timers, you can still do paragliding with an experienced tutor and enjoy the great sight of the Oludeniz beach anytime you want, all year long.
Lycian Way is Worth to Discover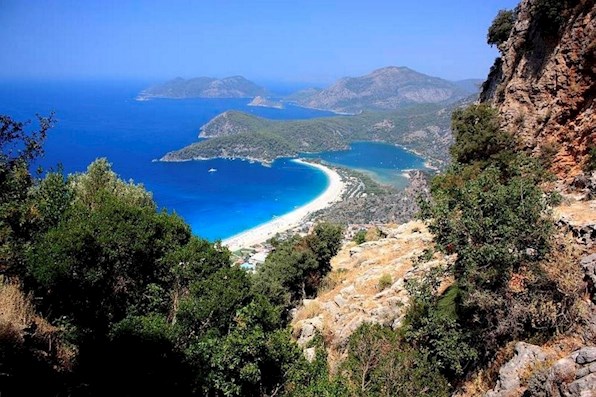 Oludeniz beach is on the route of Lycian Way which is a 240 kilometers long ancient road. Lycian Way is a great place to discover ancient Lycian wonders. If you are interested in nature walks and green environment of Fethiye, you should note this into your list and give a chance.
Lycian Way is a long and hard parkour to complete and it is not possible to walk it all in a month or limited time, it needs more complicated equipment and planning with experienced tutors. But, fortunately, there are shorter routes that you can explore with trekking groups or all alone. These roads are well signed and you will experience the amazing feeling of exploring nature and reaching the golden coasts of Oludeniz beach.
Nature is not the only thing that you will see on your route in Lycian Way. You will also see catacombs of ancient Lycian empire and other historical artifacts. You can also observe different wildlife species and birds on your way, so if you are planning to walk on this route, don't forget to take your camera with you.
Oludeniz Beach is Waiting for Your Discovery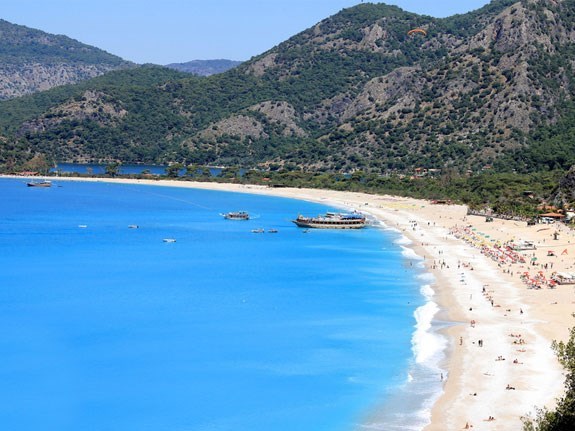 Oludeniz Beach and Fethiye are waiting for your discovery and of course the best way to explore this region is a villa rental holiday. Under the guarantee and customer satisfaction first policy of Hellovillam, you will always feel privileged during your holiday.
You can choose to stay in a villa that is close to the world famous Oludeniz beach or somewhere else that you desire. You can choose different features like hot tub, steam room or your own Turkish Bath in your villa.
Villa rental holiday will give you the freedom of choice, in every aspect of your holiday, starting from location and features that you desire. Hellovillam will help you to find the best place that you are looking for. You will spend your entire holiday in a place of your dreams with the exact features and options that you are looking for.
Get ready to explore Turkey's pearl, Oludeniz beach with Hellovillam. Turquoise waters, golden coasts, rich cultural history and the best rental holiday villas of Fethiye and Oludeniz are waiting for you with the traditional Turkish hospitality of Hellovillam.