The world famous Salda Lake is located in the southwestern Turkey. The lake is a mid-size classified crater lake and has a unique atmosphere that astonishes everyone who visits it. Nature's virgin wonder Salda Lake is a home for different species including unique plants and animal species.
Lake Salda is located on the borders of the Burdur province, about fifty kilometers away from the city center. Also, it is part of the Turkish Lakes Region which has tens of lakes and a very unique atmosphere.
The great atmosphere of Lake Salda makes it famous all around the globe. The lake is famous for its white sands and turquoise waters and it's called "Maldives of Turkey". The place's unique atmosphere is a point of interest for photoshoots too. Especially during sun dawn and sunset, the light, turquoise waters and white sands creates an astonishing atmosphere at Lake Salda.
How to Get to Lake Salda?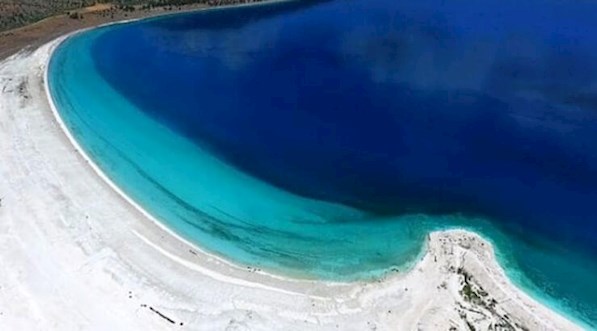 Lake Salda is located in Yeşilova district of Burdur Province. Lake's touristic significance is not limited to domestic travelers but also gets the attention of people from many different countries around the globe. Even though it is located in the middle of nature, it is easily reachable from the city center of Burdur Province.
It is possible to use public transportation to reach Lake Salda from the Burdur city centre, including public busses that are designated to the lake and tourist attractions around the area. Along with the touristic service busses and other tour options, you can take the ride from "Burdur Otogar" to the lake area.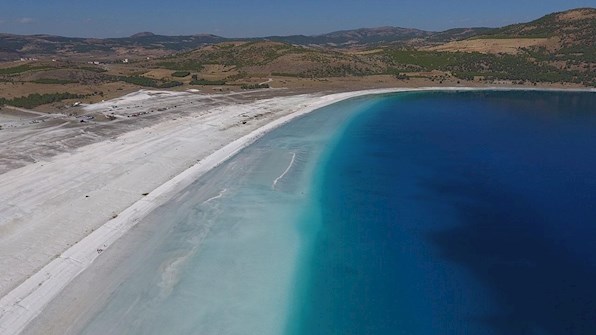 If you are renting a car or using your own car for transportation, you need to follow D330 road from city center until you see "Kiraatli Road". It is possible to reach Lake Salda after 1 hour of ride with your own car that takes 76 kilometers.
Burdur is not the only province where you can reach Lake Salda. You may also choose to go there from Isparta, which is the longer way, that takes 107 kilometers of ride.
What to do at Lake Salda?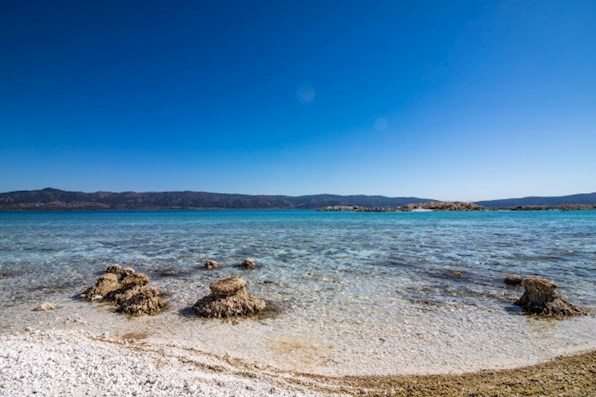 Along with its magnificent nature and astonishing unique atmosphere, it is possible to do different activities in this area. But unfortunately water sports and other extreme activities are forbidden as a protective caution to keep the area in its best conditions and keep the nature virgin as it is.
Lake Salda is a place of solitude and great relaxation. You can bring a basket with you and picnic near the lake. The lake and its shorelines are surrounded by black pine forests which are the home of quails, hares, foxes and different animals.
If you are interested in photography, Lake Salda and forests around the area is one of the best places in Turkey to catch magnificent scenes. Hundreds of different wild species and animal life are visible all around the area.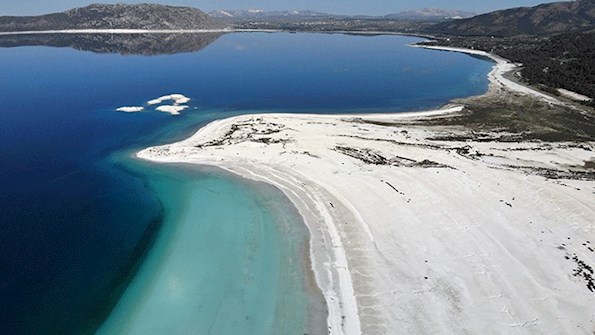 If you are visiting the area in summer or spring, it is possible to swim at the lake too. The waters of Lake Salda contain rich hydromagnesite and different minerals. Due to mineral rich waters of the lake, it is believed that the lake is curative for certain dermatological diseases.
Don't forget to take pictures of the great shoreline that are covered in white sands. Especially during the sunset and sunrise the lake offers the greatest moment to capture. Romantic, mesmerizing atmosphere will be the great opportunity to spend your evening there.
Where to Stay During Your Visit to Lake Salda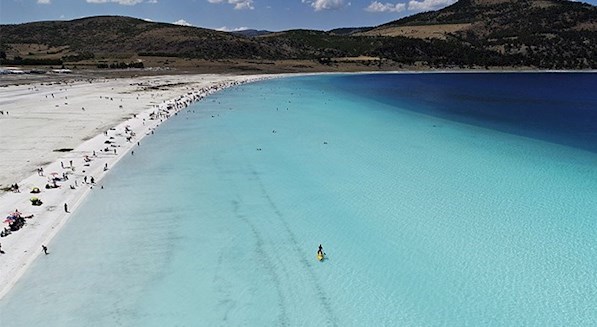 Lake Salda is an area of protection and there is no accommodation or buildings around the lake area. So, your only alternative for accommodation is staying in Burdur or Isparta. Also, you can stay in Antalya and visit Lake Salda during your vacation.
Spending a morning around Lake Salda is usually enough. But if you are a fan of swimming in mineral rich waters of Lake Salda, you may want to spend the entire day there. There are a few markets and local restaurants around the area so you can buy food, or you can bring your own food.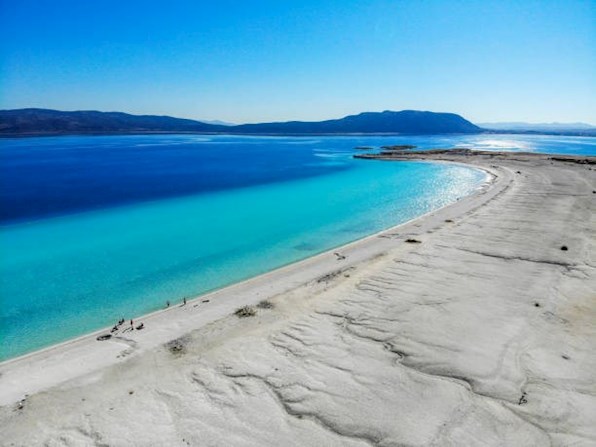 Staying in a villa during your vacation will help you with exploring the area around Lake Salda. If you have time and freedom of choosing what you want to do, you can also explore other lakes of Turkish Lake Regions and join different activities including exciting water sports or calming nature walks. Antalya holiday villas have excellent locations that allow its visitors to do these activities.
Do These During Your Visit To Lake Salda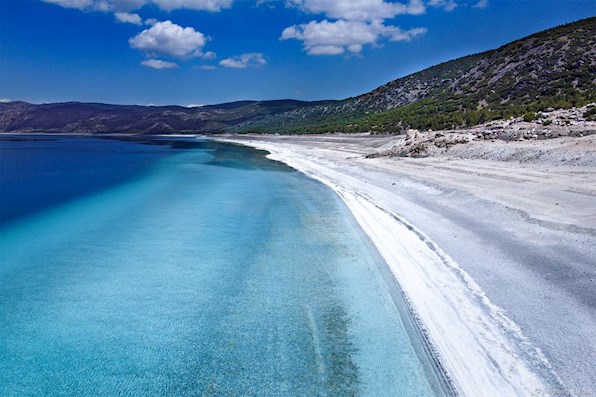 Bring a picnic basket with you and spend your day relaxing in nature. You will feel the calmness and hear the voices of hundreds of different species around the area.

Visit Lake Salda at dawn or sunset. The lake and turquoise waters will be magnificent at that time. The sight will be excellent, so you can take great pictures during your visit.

If you are visiting Lake Salda in Summer or Spring, don't forget that you can swim in these waters. Mineral rich waters of Lake Salda are believed to cure specific dermatological diseases.

If you want to discover more, you can visit other lakes around the area. Turkey has many different lakes to see and almost all of these are located around Lake Salda. Turkish Lakes Region has many things to offer and waits for its visitors.

You may want to join trekking and hiking tours to discover pine forests around the lake. During the tour, you will have the opportunity to see different flowers that are unique to the Lake Salda area.

Try different sea food around the area. You can taste the fish that had been caught in Lake Salda. You can also buy fresh and organic ingredients from bazaars around the lake and villages.

Even if it is winter and cold, you must take your shoes off and walk in the water. The white and soft texture of Lake Salda is a must that you have to try. Even with a short and quick walk, you will feel relaxed and calm.