There are some places in the world which are able to provide everything that you are looking for. Fethiye is one of them. This magnificent place has amazing nature, sight, history and the perfect condition for extreme sports like paragliding.
Fethiye has a lot of things to offer and during your villa rental holiday you will be able to do whatever you want. As you can create your own calendar during your holiday, you will have plenty of time to visit these wonders of Fethiye! If you are looking for the Fethiye's best, get ready to discover it!
Swim at Oludeniz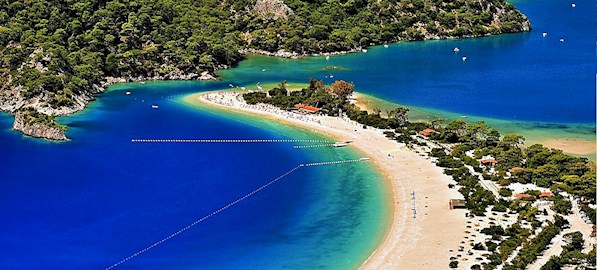 As everyone knows, Oludeniz is the most famous place of Fethiye. It's calm and turquoise waters gives a tranquil feeling and unforgettable experience to its visitors.
When it comes to places to visit in Fethiye, Oludeniz must be first on your list. You can spend the entire day here as you enjoy the sun and beach, join exciting activities like water sports, or you can explore the underwater by joining diving lessons there.
If you are looking for a deeper Oludeniz experience, you must join trekking tours in the area and climb into the Babadag which has a spectacular sight. Check out Fethiye holiday villas for magnicifent holiday in Turkey!
Go to Butterfly Valley
Butterfly Valley is another point of interest in Fethiye and it is very famous all around the world. During the summer season, you can observe thousands of different butterflies in the valley and interact with them.
Along with the Oludeniz Beach, Butterfly Valley is a must to see in Fethiye too. It is possible to reach the valley by the sea from the Oludeniz coasts. It is also possible to go there by land but it is hard and not prefered by most people.
You can do camping in Butterfly Valley during the season or you can just join the daily tours to visit this place. Either way, you will love the Butterfly Valley and of course don't forget to bring your camera to take pictures of butterflies around the valley.
Walk into the History in Kayakoy

Kayakoy is a spectacular place that you must see. It is an abandoned village with astonishing architecture. The village was abandoned in 1923, before this date almost ten thousand people were living in these buildings. During your visit to Kayakoy, you will feel the history and definitely experience something unique.
Historical part of the village is not inhabited right now but there are still some cafes and pubs around the village. Also, there are different activities like daily yoga courses, trekking tours and other interesting events that you can join.
Kayakoy is a magnificent place and you must go there during your trip to Fethiye. You will be fascinated by the amazing sights.
Walk into Lycian Way

The Lycian Way was an important trade route in ancient ages. The Lycian Way has 535 kilometers of parkour that you can walk, of course it is not possible to complete with a simple trip without equipment but you can still walk on a part of it.
Lycian Way offers a unique experience that you can bond with nature and see historical places hidden among the dense forests of Fethiye. Whole road is well signed and mapped but if you are an inexperienced hiker, you should consider joining trekking tours from Fethiye.
When you are walking on this road, you will feel like you are living in the ancient times. You will hear the songs of the birds and love the feeling of nature's freedom. Especially if you are looking for a tranquil and different experience, you must go there, even for a short route.
Visit Catacombs of the Kings

As we mentioned before, Fethiye has a very deep history and magnificent historical artifacts that will mesmerize you. In the city center of the city you can see the catacombs of the kings and visit them.
These catacombs are carved into the mountain and well protected, most of these are staying just like the first days. If you are interested in Lycian history and ancient eras of Fethiye, you will definitely enjoy visiting these artifacts.
Along with the historical importance, these catacombs have a spectacular sight to picture. Especially during the sunset, you will see the magnificent view of Oludeniz and feel like you are looking into a movie scene. So, if you are visiting catacombs of kings, you must bring your camera with you. If it's possible, visit it during the sunset.
Walk into Fethiye City Center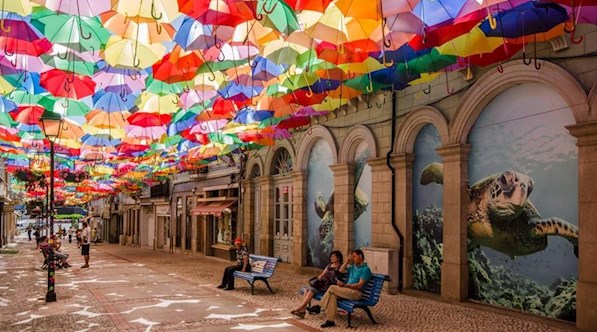 Fethiye city center is a great place to explore all alone. Even the city center is staying in the shadows of Fethiye's great history and spectacular beaches, new Fethiye town is a point of interest too.
There are lots of different shops and cafes around the town that you can visit and buy souvenirs for your friends or family, or you can grab a drink and enjoy it while looking into the calm and tranquil sea.
Fethiye harbour is also worth visiting if you are looking for a place to listen to yourself. The harbour is usually calm and cafes are not playing loud music, so you can sit in a tranquil and peaceful atmosphere. If you have time, spend your evening there and listen to street musicians while watching the sea. This will feel like you are in therapy.
Expand Your Visit to The Region

Fethiye is located in the center of almost everything. During your visit, you can easily expand your vacation to the closer regions and points of interest that are worth visiting.
You can visit the Ancient City of Tlos and explore deeper history by travelling 42 kilometers east from the Fethiye city center. You can go there by car or use the busses from the city center. During the summer season, you can find a shuttle there, every hour.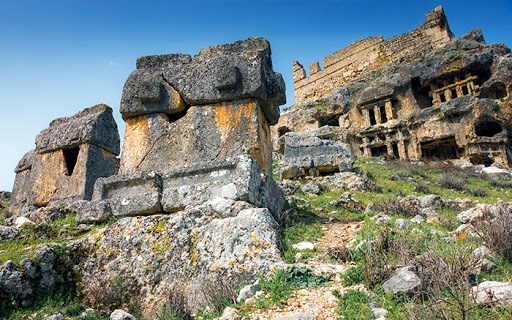 Another place that is worth discovering is Telmessos Ancient City which is 45 kilometers far from the city center. Along with these ancient cities, you can visit Patara ancient city and famous Patara beach during your visit.
There are lots of things to do, lots of places to visit in Fethiye. With the freedom of choice which is possible with a holiday villa rental, you will have the opportunity to do whatever you want!