Fethiye is one of the world's best places for extreme sports like paragliding. Along with the paragliding, there are many different things to do in this nature's pearl.
Fethiye is located in the Aegean region of Turkey. It is famous for its natural wonders, rich culture and great nature. Fethiye's roots extends to Lycian legends and ancient Lycia. After the Lycian period, the city became part of the Persian Empire, Byzantine and Ottoman.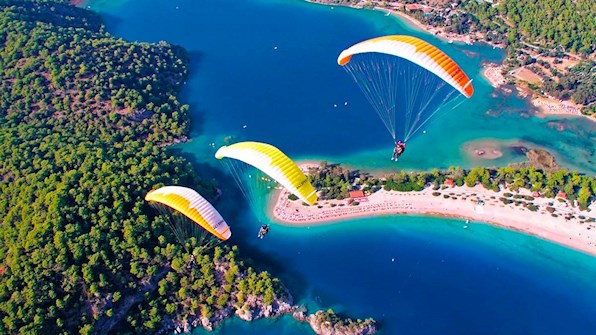 Fethiye's current state is a point of interest for history enthusiasts and extreme sports lovers. With its famous beaches like Oludeniz and mountains like Babadag, Fethiye is an all-in-one holiday destination for everyone.
Paragliding in Fethiye: What to Expect

Paragliding tours and activities in Fethiye starts in Babadag. Babadag's wind and other conditions are very suitable for paragliding in this area, even for beginner levels. Babadag usually has suitable conditions for paragliding all year long, but the best season for this activity is Summer.
Babadag's amazing conditions allows everyone to participate in paragliding. Even, if you are a beginner, you are allowed to join paragliding in Fethiye. You may choose to glide with trainers with your or alone, if you have a licence and experience.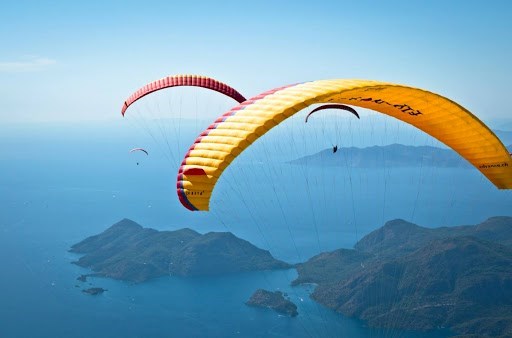 Fethiye Babadag has 30 to 40 minutes flight time during paragliding and this makes Fethiye significant for this paragliding. The flight time of Babadag is one of the longest in the world for paragliding.
During the flight, you will see the dense forests of Fethiye and great sight of Oludeniz. Descending into these natural wonders will be an amazing experience for everyone. Especially during the sunset or sunrise, with the right conditions for paragliding, you will see every single color that nature has.
Fethiye Paragliding Price Ranges

In Fethiye, you will see various alternatives for paragliding tours and companies. Also, there are different alternatives including package tours with safari or different alternatives along with the paragliding.
If you are interested to get training for paragliding, you may want to buy package tours that includes 2-3 days training and certificate program. Otherwise, you can join daily paragliding activities with an experienced pilot. The price range varies between 200 - 300 Turkish Lira per person.
You may also use your own equipment for paragliding if you have a licence to do this sport. If you are interested to buy your equipment in Fethiye, used paragliding equipment starts from 5000 Turkish Liras and new ones are about 8.000 - 10.000 Turkish Liras.
Is Fethiye Safe for Paragliding?

Fethiye, Babadag is one of the world's most popular destinations for paragliding and other extreme sports activities. As a safety condition, people without enough experience and required certifications are not allowed to do paragliding alone.
If you are inexperienced or you don't have a licence, you have to do paragliding with an experienced tutor or pilot. Every paragliding company employs professionals to guide beginners and tourists during the glide.
Certified paragliding companies are regularly inspected by THK, Turkish Aeronautical Association for safety regulations and other requirements and related ministries. Even the accidents still happens, it is very rare and paragliding in Fethiye is considered very safe. During the high season, summer, there is more than a hundred thousand flights made and almost no fatal accident happen.
For your own safety, don't forget to ask and check necessary certifications and equipment conditions before choosing the paragliding company. Every certificated paragliding company will happily provide documents that you will ask.
You Can Fly with Your Friends or Family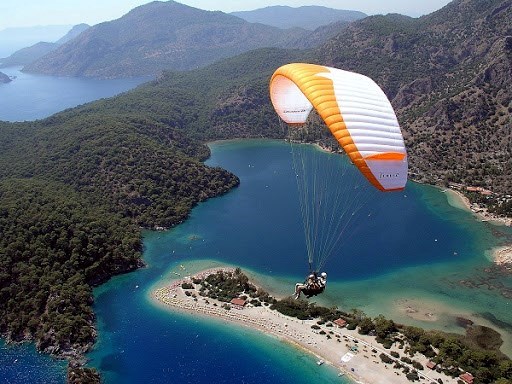 It is possible to do paragliding with your friends and loved ones. Fethiye's suitable environment and weather conditions for paragliding allows to use different equipment including two or three seats parachutes.
Fethiye is considered as one of the most suitable environment for paragliding in the world. It's magnificent nature, sight and great weather condition makes this place a point of interest for everyone.
If you are interested to use different equipment or paraglide with a group of people, it is recommended to call paragliding company in advance and reserve the equipment and ask for other details. As a safety regulation, you might be asked for your weight or other details to get the right equipment.
Other Extreme Sports That You Can Do in Fethiye
Fethiye is a real gem when it comes to extreme sports and exciting activities. Even, paragliding is the most popular one, you can even ride a fighter jet and do some acrobatics with an experienced jet pilot.
If you are not interested with paragliding, you can join ATV or jeep safari tours and enjoy the great nature of Fethiye. You may also join trekking and hiking tours to explore Babadag's great atmosphere.
As another great extreme activity, some companies offers free sky jump from a plane. But unlike paragliding, you need to join necessary classes and get a licence to perform this sport. It is also regulated by authorities and considered as very safe.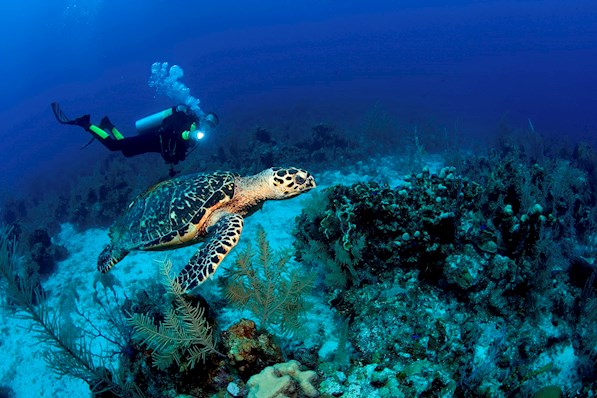 Babadag and Fethiye is a haven for adrenaline addicts, but also offers one of the most tranquil places of Turkey. If you need relaxation and feel the tranquility and calm, you can choose to spend your day at the coasts of Oludeniz and enjoy the sun with tranquil and turquoise waters.
Also, the ecosystem of Oludeniz offers a whole different experience and a new world to discover. The clean waters and calm waters of the sea creates a perfect underwater world for whom interested. There are some tour packages combines paragliding and diving together so you can discover the sky and underwater together.
Fethiye is an amazing place and hiding matchless experiences for its visitors. It's well protected nature, clean coasts and perfect weather conditions creates a unique, all in one holiday experience for tourists.
Of course, the best way to discover Fethiye's every single hidden treasure is staying in a villa. With the freedom of creating your own calendar and comfort of a villa, you will explore and enjoy the best of Fethiye, anytime you want, as you exactly like you desire. Check out for Fethiye holiday villas for a excitement holiday!