With its amazing coasts and great historical places you can do many things at Kas and explore the pearl of Mediterranean sea. This amazing place has different things for different people to offer. For instance, if you are interested in rich culture and history of ancient civilizations, you will see the magnificent wonders of ancient Lycian civilizations. Of course, when it comes to Kas, history will not be limited by Lycians, you will also see historical monuments and different wonders of Ottomans, Romans and other civilizations that were inhabited the area.
Along with the history and historical artifacts from different civilizations of the aeons you will see the most fascinating beaches and natural artifacts of the Mediterranean Sea in Kas. Especially with the help of freedom of choice that comes from staying in a villa rental, you will never be bored during your holiday in Kas.
There are so many different things to do in Kas, but if you want to prioritize this list and get inspired, we combined the best activities that you can do in Kas for you.
Visit World Famous Beaches
Kas is an irreplaceable place when it comes to golden coasts and turquoise waters of the Mediterranean. Everyone that goes to the Kas must visit the world famous beaches of the area.
When you are planning your trip around the Kas, make sure you add Kaputas Beach to your list. You will face with the most tranquil atmosphere of the area and definitely enjoy the great sights of the Kas.
You can swim anytime during the day at Kas' beaches but you should try to swim during the dawn when the sun rises slowly between the mountains that covers this magnificent soils. Also, you must spend an evening in the romantic atmosphere of Kas and drink some beverages with your loved ones during the sun slowly descends into the sea and creating a great sight to remember.
Join Boat Tours and Explore Neighbours of Turkey
Kas is located in a great position that allows you to discover neighbours of Turkey and virgin bays of the area. You can join the boat tours in the harbour of Kas and explore the fascinating coasts of Turkey.
Most of the tours starts in the early morning and takes the whole day. The tour takes the visitors to different places and island that are worth visiting. You can also visit neighbouring islands of Greece in daily boat tours and visit a different country in a day during your vacation in Kas.
Yacht tours are not limited for the day. If you are looking for a romantic activity to do with your partner, you can join a tour that happens under the full moon and experience one of the best moments that absolutely worth remembering and you will see the picturesque sight of the moonlight that reflects on the sea.
Explore Forests of Kas with Trekking Tours
Kas also offers a great nature to its visitors. When you are looking for a place to discover, Kas will satisfy your needs in every way.
Dense, green and virgin forests of Kas will create a great moments during trekking tours and mesmerize you. If you are interested in walking in a forest with different and wide wildlife, Kas will definitely satisfy your needs.
Kas' great atmosphere allows people to explore its rich forests. Even during the rainy winter season, you can always join a trekking tour and explore Kas' rich forests anytime you want. As you can join tours, you can also explore the area alone if you are experienced in finding your way around the forests. If you don't trust yourself about finding your way, you can prefer to walk in signed beginner trekking routes all alone and still enjoy the calmness of nature.
Dive into the Mediterranean Sea
Kas has many things to offer in land but also have a great underwater environment that will take your mind away when you look at it.
If you are looking for different experience to do in Kas, you can join scuba diving courses and events to explore underwater life of Mediterranean. From beginner to experienced divers, Kas will offer different parkours and exciting event to everyone.
Even if you are doing it for the first time, you can still dive in Kas. The great atmosphere and calm waters of this region will allow beginners and first-time divers to explore there.
You can also dive during the night. This will create a feeling that you are visiting a different planet and discovering it for the first time. This might be not suitable for beginners but you can still do it with experienced tutors.
Enjoy the Rich Culture of Past Civilizations
Kas was always a point of interest for many historical civilizations and these civilizations left many precious wonders that are worth to discover. Especially, for history enthusiasts, Kas has so much to offer.
During your visit, you can see Lycian empire artifacts, old amphitheatre, catacombs and more. These ancient wonders are always on your sights even while you are walking in the old town of city.
You don't have to go to specific places to feel the history of Kas. You can just walk around the town and old bazaar and feel the calm and tranquil atmosphere of this tiny village. It is also possible to buy souvenirs for your loved ones from the old bazaar of Kas and also you can buy local foods from farmers market which is located in the same place.
Enjoy the Privilege of Staying in a Private Villa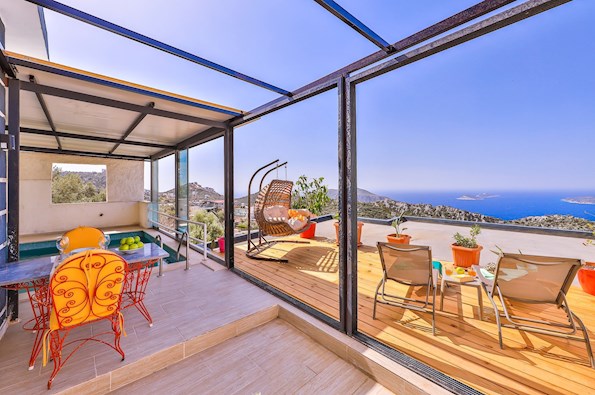 Get ready to experience holiday of your dreams in your villa. With the help of rich villa selection of Hellovillam, you can choose different villas with different features that you desire. You can stay in a villa with your own Turkish bath, gym or hot tub. Luxury features of your dreams are possible with the holiday villa rental in Kas.
Also, you will experience the privilege of creating your own calendar as you desire in Kas. You can start your day anytime you want and end it as you wish. You can jump right into the swimming pool even without washing your face.
You will always be free and always feel like you are at your own home, of course with the luxury and privileged feeling of staying in a villa. Turkey's pearl Kas is waiting for you with the best villas of Hellovillam. Hellovillam's customer first policy will always be with you and help you with any inquiries and questions that you might ask. Your own private holiday assistant will be with you on the line starting from your reservation until your stay ends.
Kas, Turkey's most wonderful place that will take your mind away is waiting for you and your loved ones to offer the most unforgettable moments of your life with a spectacular villa rental holiday!