Antalya is a magnificent place for people all around the world. Deep historical roots, great atmosphere, lovely sun and cleanest beaches all around the city makes this place irresistible for many people. Antalya located on the southwest coast of Turkey. It is covered by Taurus Mountains and it is the fifth largest city of Turkey. It has great beaches, wonderful historical artifacts and very vivid nightlife for whom interested.
During a holiday in Antalya, you will always feel like you are walking in a place of unlimited possibilities. This wonderful city is a home for many different civilizations for a long time in history. Starting from early ages of humanity to the latest empires, Antalya and its regions were always a point of interest. Along with the historical importance, the city has an exceptional natural wonders to visit. Duden, Manavgat and tens of other waterfalls, Konyaalti Beach, Kas, Kalkan and much more is waiting for its visitors.
When it comes to Antalya, you will see the endless possibilities and different places that are worth to discover. It is possible to spend the entire year in this region and still places left to visit. Of course, with this rich culture and natural wonders, it is certain that the best way to explore this city is renting a villa. Freedom of your own calendar is the only way to get Antalya's best.
Where is Antalya?
Antalya is located on the southwest coast of Turkey. After the long and high Taurus Mountains, this wonderful city welcomes its visitors. Antalya city center is of course worth visiting. Even in the city center, there are famous beaches and wonderful waterfalls that are worth to discover. Also, the city center has historical artifacts from Ottomans, Romans, Byzantium, Lycian and lots of other ancient civilizations. City of Antalya is not limited with the city center's wonders. Dont forget the check out Antalya holiday villas for villa holiday in Turkey!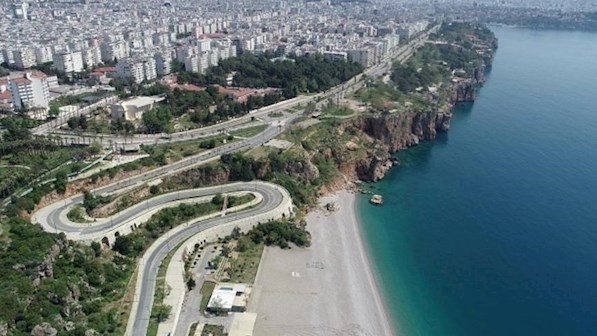 The city's connected regions like Kas, Kalkan, Belek and more offers different holiday experience for tourists. For example, about an hour of ride, you can reach Belek and visit the world famous golf courses and of course blue flag awarded wonderful beaches. Antalya's possibilities are endless. Visitors can get a tranquil and peaceful vacation experience along with the vivid city life and rich culture with magnificent cuisine, together. These traits makes this city a real world wonder that is really worth to visit.
Transport in Antalya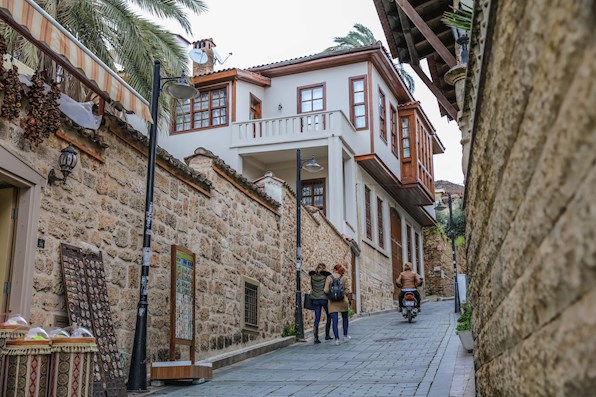 Antalya has widely accessible and well developed public transportation. There are bus and tram lines all along the city. Also, there are different smartphone apps like "Moovit" and "Antalya Kart" to see bus stops and routes all around the city center. You can get to Antalya by air and land routes. There is an international airport in the city and it has scheduled flights almost every main flying hub around the world. After landing Antalya Airport, you can rent a car, take a public bus or shuttle services called "Havas" to the city center. Transportation is available all day long, 24 hours.
If you are traveling by land, there are different highways connected to Antalya. You can easily access to the city from anywhere located in Turkey. There is a seaport in Antalya but it is not well developed so touristic transportation by the sea is not possible at the moment. But there is a big cruise ship port is being built.
Even if it is not possible, you can still go to other regions of Antalya by the water. During the summer season, there are daily scheduled ferries from Antalya to Kas. To go another regions of Antalya like Kas, Kalkan, Alanya and more, you have to go to the main coach station. You can hop on a coach and visit other wonderful places of Antalya. During the high season which is summer, you can find a scheduled ride every single hour.
What to do in Antalya?
Antalya is a place with a lot of wonders to discover. This city and its unlimited great opportunities creates a unique experience for its visitors. During your vacation in this magnificent place, you will not only see the world's most wonderful beaches and nature, you will also find a rich and deep cultural artifacts from different civilizations of the history. Antalya has so much to offer. If you are interested in spending your days in turquoise waters of this city, it is definitely possible to do it. Starting from Konyaalti to Kas, Kalkan, there are tens of different virgin beaches all around the region. Also, don't forget to mention, most of the beaches of Antalya awarded with the blue flag for its cleanliness.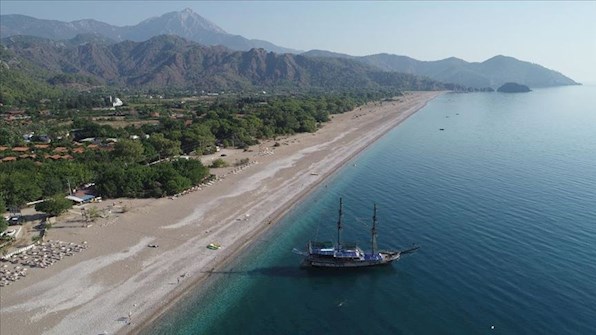 If you are thinking about spending your days under the bright sun and enjoy the pearls of nature, Antalya is the best place for it. For history enthusiasts, Antalya's rich and deep history will fascinate you. This soils were the home for different ancient civilizations, almost the start of the time. Especially, Antalya and neighbour regions are city very important because of the location of the city. The Mediterranean Sea, which is a significant importance for the world has the Antalya in the heart of it and it has been there for centuries. Lycians, Romans, Ottomans and much more are waiting for your discovery in Antalya. Antalya is also a place with a great importance for the wildlife reserves.
The Taurus Mountains that separates Mediterranean from Anatolia has rich wildlife and unique species. If you are in a mood to discover nature, you can join trekking tours and other activities to explore to explore the nature of this city. Of course this is not the only thing that Antalya hides, you can also join diving sessions and courses to discover the rich life under the clean waters of Antalya.
This magnificent experience will take your mind away and change the way you look into your life. Antalya is a magical place and it has different things to discover. During a villa rental holiday in this magnificent city, you will see the privilege of creating your own calendar as you wish and doing anything you desire. If you are looking for a real unique and life changing vacation, Antalya will surely satisfy your needs.