With the wonderful historical artifacts and amazing nature, Turkey's most iconic tourist destination, Kalkan has lots of different things to offer. You will experience Turkish golden coasts and turquoise waters of Mediterranean in Kalkan. History, culture, amazing cuisine and exceptional nature will fascinate you.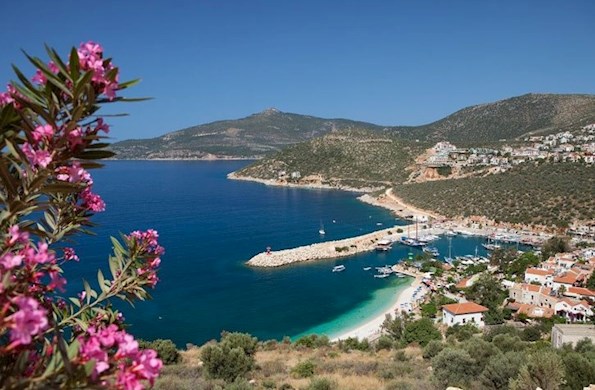 Kalkan is a Turkish coastal region that is located in Antalya city. This charming small town is a point of interest for many because of its magnificent atmosphere. Especially, if you are looking for a place that you will experience tranquility, calmness and lovely Mediterranean atmosphere, Kalkan will satisfy your needs in every manner.
Where is Kalkan and How to Go There?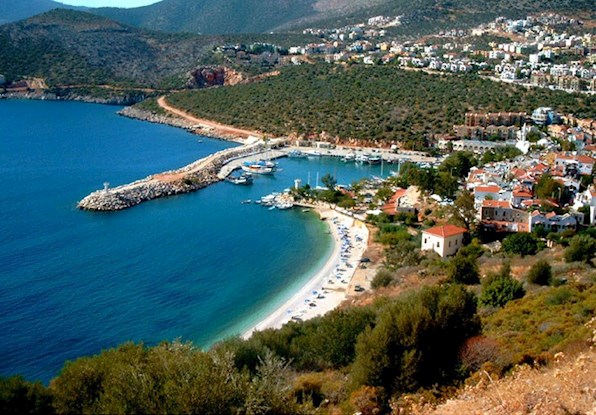 Kalkan is located in the southwest of Turkey. It is located in the borders of the city of Antalya. Kalkan, the old fishing village, new tourist haven offers lots of things to its visitors.
The closest airport to the Kalkan is Dalaman Airport, which is 2 hours of flights away. You can also use Antalya Airport to reach there. You can rent a car from Dalaman or Antalya airports to go city center or you can use shuttles and busses from the airports.
If you are travelling to Kalkan from Istanbul or Antalya, you can easily get there by using the busses from coach stations. Almost every main coach station has scheduled to Kalkan. Especially in the high season, Summer, Kalkan is a booming destination so many coach companies schedules rides to Kalkan.
Kalkan is a small touristic village so you can easily walk around without any problem. You can just walk and visit the popular places in the region. If you want to visit historical monuments around the are you can rent a car or rent a bicycle to visit around. But, keep it in mind, it might be hard to use a bicycle if you don't trust your condition.
Villa Holiday in Kalkan: What to Expect?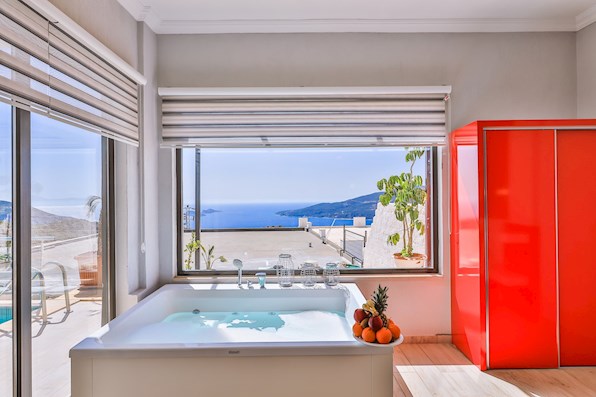 Kalkan is a great place to get rid of any stress that is on your mind. You will feel the tranquility and calmness around the area with the songs of tens of different bird species. Especially, villa holiday in this region will give you the opportunity to discover whatever you desire.
Kalkan was always a point of interest for different civilizations for centuries including Lycian empires, Ottomans, Romans and more. Especially in early ages, the geographical advantages of this place makes it very important during every single part of history and as a result of this importance, the region has unique and important artifacts from these ages.
This unique place gives an amazing opportunity to visitors that allows one to discover the deep history and exceptional nature at the same time. Also, you can join to explore nature with groups in activities like trekking, ATV safari, horse riding, climbing and much more.
Staying in a holiday villa rental in Kalkan is a great opportunity to discover the area around the region. While spending your vacation in a villa, you will have the freedom of choosing what to do and anytime you want. You will create your own calendar and do activities you desire. Unlike the crowded hotels, you will always be alone with you and your loved ones and create your own program instead of rush calendars that are already created for you.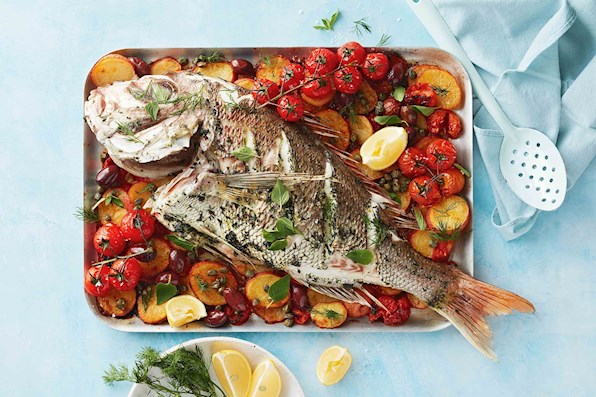 Villa holiday is a unique experience all by itself and it is getting better with a place like Kalkan. History, culture, rich Turkish - Mediterranean cuisine, golden beaches and much more will be waiting for you there.
Turquoise Waters and Golden Beaches of Kalkan
The turquoise waters of Mediterranean is waiting for you in Kalkan. During your stay, you will have the opportunity to discover different places like Patara, Kalkan Beach, Kaputas Beach and more.
Of course, when it comes to Kalkan, the world famous Patara Beach is number one in the list. Patara is located 20 minutes drive away from Kalkan. This place is a point of interest for people around the world.
Patara's biodiversity and rich wildlife is fascinating its visitors. Along with the perfect turquoise waters, you will see the endangered Caretta Caretta turtles around the beach and if you are lucky, you will have the opportunity to swim with them.
The beach also has a great birdlife, if you are interested with it don't forget to bring binoculars and observe hundreds of different bird species. Also, you can visit the ancient city of Patara and observe the ruins from ancient civilizations.
Patara is not the only beach that you can visit. You can also go to the Kalkan beach which is located closer to the city center and Kalkan harbour. This beach might be crowded in the season but it is still very clean and worth to discover.
There is a beach called Kaputas, on the road between Kalkan and the other world famous touristic destination Kas. To reach this isolated beach, you have to go down on almost 200 steps of stairs. Kaputas' clean and turquoise waters are worth to discover, you should add this beach to your must visit list during villa rental holiday in Kalkan.
What to do at Kalkan?
The first activity that you must do at Kalkan during your holiday, is of course visiting the world famous beaches of the Mediterranean Sea.
Most of the beaches are offering different water sports. If you are interested in these fun and exciting activities, along with the peaceful atmosphere of Kalkan, you will always have the opportunity to join those.
Nature and history are combined together in this unique location. It is possible to visit natural sites and historical wonders at the same time. If you like to walk in nature and explore Mediterranean forests, you can join trekking tours that includes tours to historical places. There are different parkours that you can do ATV or Jeep safari in Kalkan. You can explore the area by joining these tours too.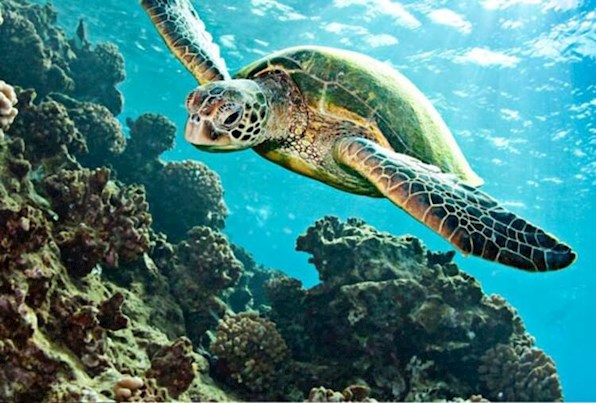 Diving is another option that you might want to try. Kalkan's underwater habitat offers a great sight to its visitors and suitable for every level of divers, beginners to experienced. You can also join the training courses and get a certificate for diving too.
You will have unlimited activities to do in Kalkan. Especially when you are staying in a villa, you will always have the time and freedom to do whatever you want. You can join tours, plan your day and even jump right into your own private swimming pool in the morning.
Under the guarantee of Hellovillam, you will always feel privileged and enjoy the greatest holiday that you will ever experience. Turkey's most beautiful Mediterranean village, Kalkan is waiting for your discovery, all year long with Hellovillam!